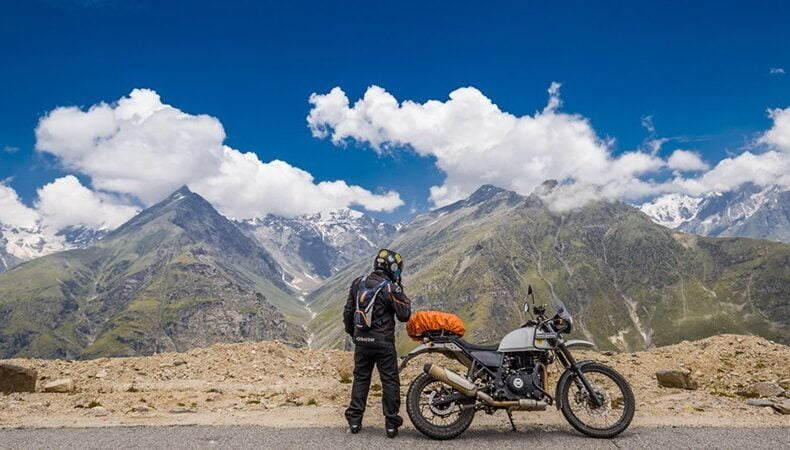 Every Indian biker dreams of going on a Ladakh bike trip. If you are planning to unravel the escapes of the region by road and drive through the exquisite trails then you must be well-planned to have an unstoppable expedition in Ladakh. Continue reading this handy Ladakh bike trip guide to make your upcoming trip a successful one in 2021.
Best Time for Ladakh Bike Trip
Planning an excursion between June to September is ideal for a perfect experience of Leh Ladakh bike trip. However, many bikers prefer going on this adventurous journey during the New Year and they wish to kick start their year amid nature. Ladakh is a year round destination and can be visited anytime except for the monsoon season.
How to Reach
Manali to Leh vs Srinagar to Leh
Most of the bikers are not very sure about whether to start the journey from Manali or Srinagar. If you too are in same dilemma then check out the below mentioned details that might help you choose the best route for yourself:
Manali to Leh
Your bike tour will initiate from Manali, following the Rohtang Pass route. The route has 2 petrol pumps at Tandi and Upshi/Karu respectively and you can carry an additional container for petrol storage along with you. The route remains comparatively rough terrains and steapy curves, ideal for highly professional bikers.
Srinagar to Leh
The Srinagar to Leh route has many petrol pumps. On your journey towards Leh, you will find petrol pumps at the following places – Srinagar, Kangan, Sonamarg, Kargil, Mulbekh, Wakha, and Khaltsi.
Clothes for Ladakh Bike Trip
Full-body thermals 

Windcheater or windproof jacket.

Snow boots or trekking shoes during winters and common sports footwear if you are traveling in summers.

Woolen socks 

Sweatshirts, sweaters, pullovers, etc.

Trekking pants or trousers. 

Balaclava or monkey cap

Hand gloves 
Itinerary for Leh Ladakh Bike Trip
Route: Srinagar – Leh – Manali
Route Map: Srinagar – Kargil – Leh – Hunder – Pangong – Karu – Sarchu – Manali.
Day 1: Srinagar
On the first day of your journey, arrive in Srinagar. Srinagar airport is well connected to other cities, especially Delhi, Mumbai, Amritsar, Chandigarh, etc. Rent a bike and complete all the formalities. You can spend the remaining day on leisure, capturing the local vibes. 
Day 2: Srinagar to Kargil
Ride towards Kargil on this day and you will be traversing through Sonmarg. Halt to capture the impeccable beauty of the region before reaching your final destination for the day, Kargil. You will be crossing the Zojila Pass on this route. Spend the night at Kargil, and you can also visit the Kargil War Memorial if you reach within the opening hours.
Day 3: Kargil to Leh
Start your trip from Kargil to reach Leh on this day. You will be crossing spectacular terrains of Ladakh region before you reach the lively town of Leh. Visit Alchi and Lamayuru Monasteries on your way to the capital town.
Day 4: Leh Sightseeing Tour
The fourth day of your Leh bike trip can be dedicated to the sightseeing experiences across Leh and surrounding areas. You can visit tourist attractions such as Leh Palace, Shanti Stupa, Spituk Gompa, etc. Spend night at Leh for the upcoming enthralling expedition.
Day 5: Drive through Khardungla
The biggest attraction that lures bikers to Ladakh is the Khardungla Pass. On this day, start a little early and unravel the heights and drives of the Khardung La pass, located at an altitude of 18,380 ft. Ride towards Hunter and capture the experiences of the exquisite cold desert.
Day 6: Impeccable beauty of Nubra Valley
Nubra Valley is a serene escape for nature lovers and peace seekers. Ride to the astounding terrains of Nubra Valley and if possible then go for camel safari over the dunes. Spend night at a camp in or around Nubra Valley.
Day 7: Get mesmerized by Pangong Tso
Drive to Pangong Lake and get enticed by the scenic vistas of the site. Join the camping site near the lake, check-in in for an overnight stay.
Day 8: Tranquil ambiance of Karu
Day goodbye to the Pangong Lake and its gorgeous surroundings and drive through the Chang-la pass to reach Karu. Spend night at Karu and catch the local vibe.
Day 9: Cross the terrains of Sarchu
Take a drive from Karu to reach your next destination Sarchu which will take nearly 6 hours. It is a famous halt in the Himalayas and serves to be a base for numerous expeditions.
Day 10: Welcome to Manali
Today is the day to reach your final destination, that is Manali. Take a drive from Sarchu to reach Manali. Spend the night here and leave for your city.
A Ladakh bike trip requires a cautious drive and a well-planned trip. Make sure that you book your expedition with a trusted travel planner. Go2Ladakh is amongst the most trusted travel organizers in Ladakh and surrounding regions.